Style : Jazz
Jazz and the birth of the drumset
Jazz is born in the begining of the XIXth century; the drumset also. From the early years till today many different jazz styles give different drumming. The most representative form is the one played with the ride cymbal end the hi-hat foot.
To go further with this lesson you can play the etude "4 Esprits" available at The Shop.

You want to know more about the drumset, jazz and rhythms from all around the world, have a look on Le Voyage du Tambour.
Introducing the brushes
Introducing Jazz
PATTERN #1 : on Ride Cymbal
Tempo = 132bpm ; count in = 1234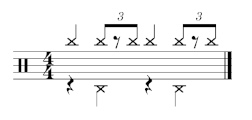 |1--2--3--4--||
RC |x--x-xx--x-x||
HP |---x-----x--||
PATTERN #2 : on Hi-Hat
Tempo = 132bpm ; count in = 1234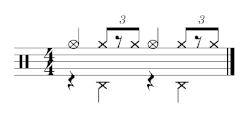 |1--2--3--4--||1--2--3--4--||
HH |o--x-xo--x-x||
HP |---x-----x--||
PATTERN #3
Tempo = 132bpm ; count in = 1234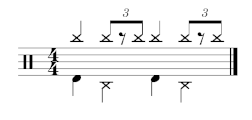 |1--2--3--4--||
RC |x--x-xx--x-x||
BD |o--o--o--o--||
HP |---x-----x--||
PATTERN #4 : Four on the Floor
Tempo = 132bpm ; count in = 1234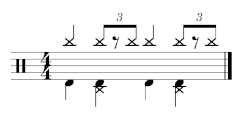 |1--2--3--4--||
RC |x--x-xx--x-x||
BD |o--o--o--o--||
HP |---x-----x--||
PATTERN #5
Tempo = 132bpm ; count in = 1234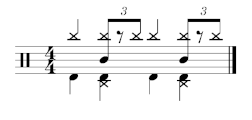 |1--2--3--4--||
RC |x--x-xx--x-x||
SD |---o-----o--||
BD |o--o--o--o--||
HP |---x-----x--||
PATTERN #6
Tempo = 132bpm ; count in = 1234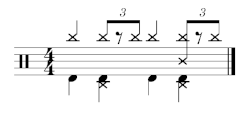 |1--2--3--4--||
RC |x--x-xx--x-x||
SD |---------x--||
BD |o--o--o--o--||
HP |---x-----x--||
PATTERN #7 : Afro-Jazz
Tempo = 132bpm ; count in = 1234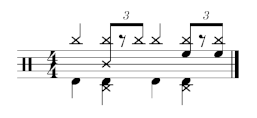 |1--2--3--4--||
RC |x--x-xx--x-x||
T1 |---------o-o||
SD |---x--------||
BD |o--o--o--o--||
HP |---x-----x--||
PATTERN #8 : "Comping" on snare drum #1
Tempo = 132bpm ; count in = 1234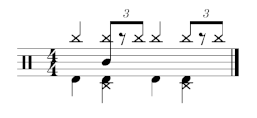 |1--2--3--4--||
RC |x--x-xx--x-x||
SD |---o--------||
BD |o--o--o--o--||
HP |---x-----x--||
PATTERN #9 : "Comping" on snare drum #2
Tempo = 132bpm ; count in = 1234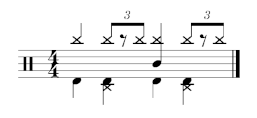 |1--2--3--4--||
RC |x--x-xx--x-x||
SD |------o-----||
BD |o--o--o--o--||
HP |---x-----x--||
PATTERN #10 : "Comping" on snare drum #3
Tempo = 132bpm ; count in = 1234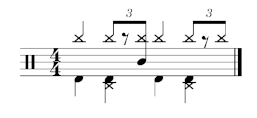 |1--2--3--4--||
RC |x--x-xx--x-x||
SD |-----o------||
BD |o--o--o--o--||
HP |---x-----x--||
PATTERN #11 : "Comping" on snare drum #4
Tempo = 132bpm ; count in = 1234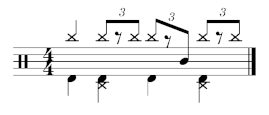 |1--2--3--4--||
RC |x--x-xx--x-x||
SD |--------o---||
BD |o--o--o--o--||
HP |---x-----x--||
PATTERN #12 : "Comping" on snare drum #5
Tempo = 132bpm ; count in = 1234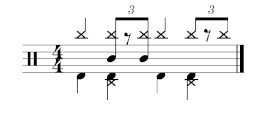 |1--2--3--4--||
RC |x--x-xx--x-x||
SD |---o-o------||
BD |o--o--o--o--||
HP |---x-----x--||
PATTERN #13 : "Comping" on snare drum #6
Tempo = 132bpm ; count in = 1234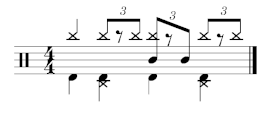 |1--2--3--4--||
RC |x--x-xx--x-x||
SD |------o-o---||
BD |o--o--o--o--||
HP |---x-----x--||
PATTERN #14 : "Comping" on snare drum #7
Tempo = 132bpm ; count in = 1234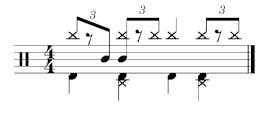 |1--2--3--4--|
RC |x--x-xx--x-x|
SD |--oo--------|
BD |o-----o-----|
HP |---x-----x--|
PATTERN #15 : "Comping" on snare drum #8
Tempo = 132bpm ; count in = 1234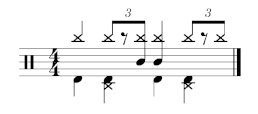 |1--2--3--4--||
RC |x--x-xx--x-x||
SD |-----oo-----||
BD |o--o--o--o--||
HP |---x-----x--||