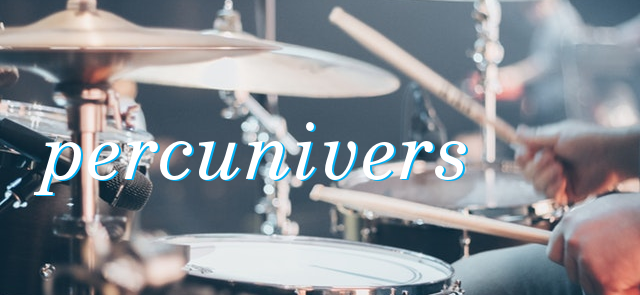 Welcome
Percunivers.com it's 71 free drums lessons, music sheets, pedagogic contains, drums shows, jazz, music computer. You can help percunivers.com to grow by buying some drums sheets or by giving a donation.
You have a question and need an answer, join the Percunivers' IRC channel
Click on RSS to stay in touch with www.percubnivers.com.

BOSSA NOVA (lesson and video)

... rythme incontournable à la batterie, née de la rencontre du jazz et de la samba, la bossa nova est jouée dans un tempo plus lent que la samba ... Style : Bossa Nova.

VIDÉOS

... new videos on Percunivers.com : Leçon n°3, Leçon n°6, Leçon n°8, Petites Notes n°1, Style : Jazz.

VIDEOS

... a new video on YouTube to illustrate the lesson Petites Notes #03 ...

VIDEOS AND A NEW LESSON

... new videos on Percunivers.com : Style : Blues, Style : Ballad, Style : Funk, Lesson #49.
... new etudes' videos on YouTube : Argile, Ambre, Gré, Marbre, Granite, La Grosse Caisse sur l'Étang, Mozango, Djieili.
... a new lesson : drums notation.