petites notes #11
Coordination for the beginners
Coordination means you play each limb, harms and legs, consecutively and not simultaneously as in the independance. So you have to control the high part and the low part of your body to get a smooth and regular motion between them ; you have to work on the balance of the sounds from the high (snare drum and tom-toms) and the low (bass drum).
Choose first a slow tempo to be able to carefully listen each strokes, listen and control the sounds.
Speed up and slow down to gain in speed.
The bass drum could be played heel up or heel down. Play dead center on the tom-toms (for a fullish sound).
Replace the bass drum with the hi-hat foot.
You can carry on this work with
lesson 37
.
The sticking is : the circle for the right hand and the dot for the left hand.
EXERCISE #1
Tempo = 120 ; count in = 1234



|:1+2+3+4+|1+2+3+4+:||:1+2+3+4+|1+2+3+4+:|
T1 |:----R---|--------:||:----L---|--------:|
T2 |:--------|R-------:||:--------|L-------:|
SD |:R-------|--------:||:L-------|--------:|
T3 |:--------|----R---:||:--------|----L---:|
BD |:--o---o-|--o---o-:||:--o---o-|--o---o-:|
EXERCISE #2
Tempo = 120 ; count in = 1234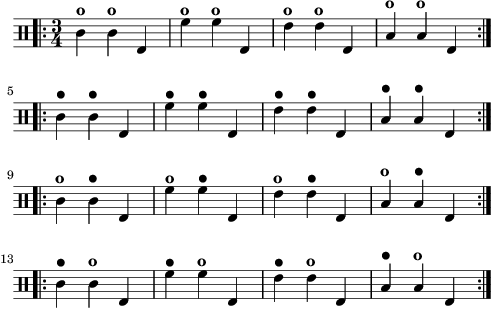 |:1+2+3+|1+2+3+|1+2+3+|1+2+3+:|
T1 |:------|R-R---|------|------:|
T2 |:------|------|R-R---|------:|
SD |:R-R---|------|------|------:|
T3 |:------|------|------|R-R---:|
BD |:----o-|----o-|----o-|----o-:|

|:1+2+3+|1+2+3+|1+2+3+|1+2+3+:|
T1 |:------|L-L---|------|------:|
T2 |:------|------|L-L---|------:|
SD |:L-L---|------|------|------:|
T3 |:------|------|------|L-L---:|
BD |:----o-|----o-|----o-|----o-:|

|:1+2+3+|1+2+3+|1+2+3+|1+2+3+:|
T1 |:------|R-L---|------|------:|
T2 |:------|------|R-L---|------:|
SD |:R-L---|------|------|------:|
T3 |:------|------|------|R-L---:|
BD |:----o-|----o-|----o-|----o-:|

|:1+2+3+|1+2+3+|1+2+3+|1+2+3+:|
T1 |:------|L-R---|------|------:|
T2 |:------|------|L-R---|------:|
SD |:L-R---|------|------|------:|
T3 |:------|------|------|L-R---:|
BD |:----o-|----o-|----o-|----o-:|
EXERCISE #3
Tempo = 120 ; count in = 1234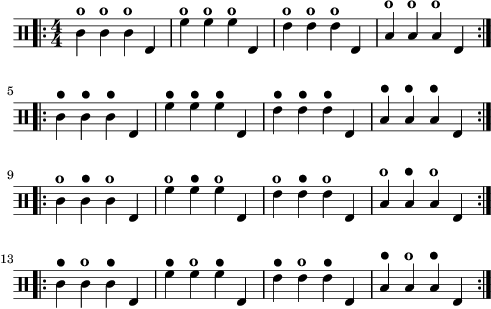 |:1+2+3+4+|1+2+3+4+|1+2+3+4+|1+2+3+:4+|
T1 |:--------|R-R-R---|--------|--------:|
T2 |:--------|--------|R-R-R---|--------:|
SD |:R-R-R---|--------|--------|--------:|
T3 |:--------|--------|--------|R-R-R---:|
BD |:------o-|------o-|------o-|------o-:|

|:1+2+3+4+|1+2+3+4+|1+2+3+4+|1+2+3+:4+|
T1 |:--------|L-L-L---|--------|--------:|
T2 |:--------|--------|L-L-L---|--------:|
SD |:L-L-L---|--------|--------|--------:|
T3 |:--------|--------|--------|L-L-L---:|
BD |:------o-|------o-|------o-|------o-:|

|:1+2+3+4+|1+2+3+4+|1+2+3+4+|1+2+3+:4+|
T1 |:--------|R-L-R---|--------|--------:|
T2 |:--------|--------|R-L-R---|--------:|
SD |:R-L-R---|--------|--------|--------:|
T3 |:--------|--------|--------|R-L-R---:|
BD |:------o-|------o-|------o-|------o-:|

|:1+2+3+4+|1+2+3+4+|1+2+3+4+|1+2+3+:4+|
T1 |:--------|L-R-L---|--------|--------:|
T2 |:--------|--------|L-R-L---|--------:|
SD |:L-R-L---|--------|--------|--------:|
T3 |:--------|--------|--------|L-R-L---:|
BD |:------o-|------o-|------o-|------o-:|

EXERCISE #4
Tempo = 120 ; count in = 1234



|:1+2+3+|1+2+3+|1+2+3+|1+2+3+:|
T1 |:------|R-----|------|------:|
T2 |:------|------|R-----|------:|
SD |:R-----|------|------|------:|
T3 |:------|------|------|R-----:|
BD |:--o-o-|--o-o-|--o-o-|--o-o-:|

|:1+2+3+|1+2+3+|1+2+3+|1+2+3+:|
T1 |:------|L-----|------|------:|
T2 |:------|------|L-----|------:|
SD |:L-----|------|------|------:|
T3 |:------|------|------|L-----:|
BD |:--o-o-|--o-o-|--o-o-|--o-o-:|
EXERCISE #5
Tempo = 120 ; count in = 1234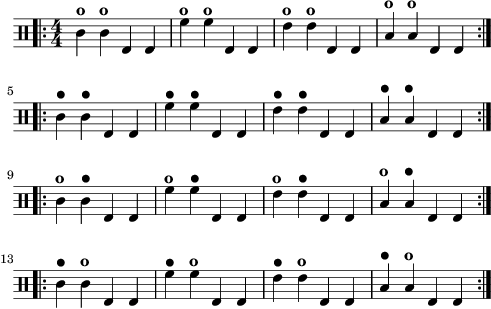 |:1+2+3+4+|1+2+3+4+|1+2+3+4+|1+2+3+:4+|
T1 |:--------|R-R-----|--------|--------:|
T2 |:--------|--------|R-R-----|--------:|
SD |:R-R-----|--------|--------|--------:|
T3 |:--------|--------|--------|R-R-----:|
BD |:----o-o-|----o-o-|----o-o-|----o-o-:|

|:1+2+3+4+|1+2+3+4+|1+2+3+4+|1+2+3+:4+|
T1 |:--------|L-L-----|--------|--------:|
T2 |:--------|--------|L-L-----|--------:|
SD |:L-L-----|--------|--------|--------:|
T3 |:--------|--------|--------|L-L-----:|
BD |:----o-o-|----o-o-|----o-o-|----o-o-:|

|:1+2+3+4+|1+2+3+4+|1+2+3+4+|1+2+3+:4+|
T1 |:--------|R-L-----|--------|--------:|
T2 |:--------|--------|R-L-----|--------:|
SD |:R-L-----|--------|--------|--------:|
T3 |:--------|--------|--------|R-L-----:|
BD |:----o-o-|----o-o-|----o-o-|----o-o-:|

|:1+2+3+4+|1+2+3+4+|1+2+3+4+|1+2+3+:4+|
T1 |:--------|L-R-----|--------|--------:|
T2 |:--------|--------|L-R-----|--------:|
SD |:L-R-----|--------|--------|--------:|
T3 |:--------|--------|--------|L-R-----:|
BD |:----o-o-|----o-o-|----o-o-|----o-o-:|
EXERCISE #6
Tempo = 120 ; count in = 1234


|:1+2+3+4+5+|1+2+3+4+5+|1+2+3+4+5+|1+2+3+:4+5+|
T1 |:----------|R-R-R-----|----------|----------:|
T2 |:----------|----------|R-R-R-----|----------:|
SD |:R-R-R-----|----------|----------|----------:|
T3 |:----------|----------|----------|R-R-R-----:|
BD |:------o-o-|------o-o-|------o-o-|------o-o-:|

|:1+2+3+4+5+|1+2+3+4+5+|1+2+3+4+5+|1+2+3+:4+5+|
T1 |:----------|L-L-L-----|----------|----------:|
T2 |:----------|----------|L-L-L-----|----------:|
SD |:L-L-L-----|----------|----------|----------:|
T3 |:----------|----------|----------|L-L-L-----:|
BD |:------o-o-|------o-o-|------o-o-|------o-o-:|

|:1+2+3+4+5+|1+2+3+4+5+|1+2+3+4+5+|1+2+3+:4+5+|
T1 |:----------|R-L-R-----|----------|----------:|
T2 |:----------|----------|R-L-R-----|----------:|
SD |:R-L-R-----|----------|----------|----------:|
T3 |:----------|----------|----------|R-L-R-----:|
BD |:------o-o-|------o-o-|------o-o-|------o-o-:|

|:1+2+3+4+5+|1+2+3+4+5+|1+2+3+4+5+|1+2+3+:4+5+|
T1 |:----------|L-R-L-----|----------|----------:|
T2 |:----------|----------|L-R-L-----|----------:|
SD |:L-R-L-----|----------|----------|----------:|
T3 |:----------|----------|----------|L-R-L-----:|
BD |:------o-o-|------o-o-|------o-o-|------o-o-:|
EXERCISE #7
Tempo = 120 ; count in = 1234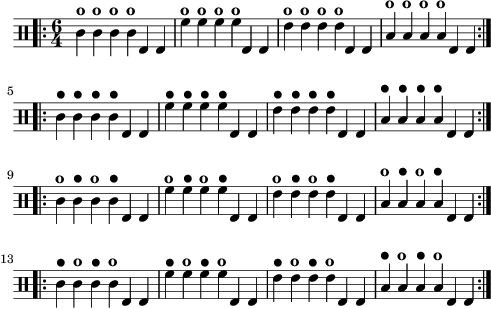 |:1+2+3+4+5+6+|1+2+3+4+5+6+|1+2+3+4+5+6+|1+2+3+:4+5+6+|
T1 |:------------|R-R-R-R-----|------------|------------:|
T2 |:------------|------------|R-R-R-R-----|------------:|
SD |:R-R-R-R-----|------------|------------|------------:|
T3 |:------------|------------|------------|R-R-R-R-----:|
BD |:--------o-o-|--------o-o-|--------o-o-|--------o-o-:|

|:1+2+3+4+5+6+|1+2+3+4+5+6+|1+2+3+4+5+6+|1+2+3+:4+5+6+|
T1 |:------------|L-L-L-L-----|------------|------------:|
T2 |:------------|------------|L-L-L-L-----|------------:|
SD |:L-L-L-L-----|------------|------------|------------:|
T3 |:------------|------------|------------|L-L-L-L-----:|
BD |:--------o-o-|--------o-o-|--------o-o-|--------o-o-:|

|:1+2+3+4+5+6+|1+2+3+4+5+6+|1+2+3+4+5+6+|1+2+3+:4+5+6+|
T1 |:------------|R-L-R-L-----|------------|------------:|
T2 |:------------|------------|R-L-R-L-----|------------:|
SD |:R-L-R-L-----|------------|------------|------------:|
T3 |:------------|------------|------------|R-L-R-L-----:|
BD |:--------o-o-|--------o-o-|--------o-o-|--------o-o-:|

|:1+2+3+4+5+6+|1+2+3+4+5+6+|1+2+3+4+5+6+|1+2+3+:4+5+6+|
T1 |:------------|L-R-L-R-----|------------|------------:|
T2 |:------------|------------|L-R-L-R-----|------------:|
SD |:L-R-L-R-----|------------|------------|------------:|
T3 |:------------|------------|------------|L-R-L-R-----:|
BD |:--------o-o-|--------o-o-|--------o-o-|--------o-o-:|